Thanksgiving is here and it's time to think about all the things we are thankful for.   I am so grateful for my family, friends, good health and a long list of other things.    I am quite blessed and thankful to our God who loves us as a son or daughter caring about our every need.  We usually go around the table every Thanksgiving in our house and have everyone name one thing they are thankful for.   This year I'm going to change the pattern as the story behind this picture I took last week is all about that moment, when you are thankful for what did not happen.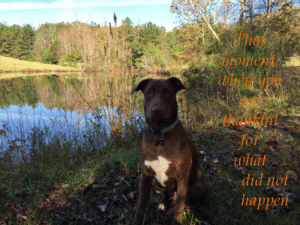 We were blessed with the opportunity a few years ago to move out to the country but still be in the suburbs at the same time. When the economy tanked we used that long-term savings we had and bought a place with a white pillar porch (portico) and rocking chairs surrounded by trees hiding away our house from the rest of the world. Peaceful and relaxing r us to the max.
We have awesome neighbors as the surrounding properties were all in the same family. We were fortunate enough to get the house we live in now as one of their kids had to move out for a job change. They have always let us hang out and fish or just enjoy the acreage and pond you see in this pic. But our world and theirs was in serious change danger as the elder family member is getting up in age and put this property up for sale.
For the past 9 months a developer was paying them to not sell the property as he was trying to get a number of approvals to build.   They had plans to fill the  beautiful pond with dirt, wipe out all the trees,  and build 19 houses on the 18 acres of land. The thought of that was heart wrenching. We've been through this before as our home in Ohio sat in the country on 5 acres and there were a total of 12 houses within a 2 mile stretch when we moved in.   6 years later there were hundreds of homes, a middle and high school, and 3 golf courses built.
Well all the plans for the developer fell apart and permits to run sewer and electric were rejected.  Thankfully, our neighbors have pulled the house off the market, and this country side is saved.   We are so thankful for what did not happen.  Pictured at the start of this story is our special dog Wynifred, or Wyni for short.   The picture was taken by our neighbors pond. We being animal lovers have had many rescue dogs and cats and also have a couple of horses, 2 birds, an 80 gallon fish tank, a gecko and a hermit crab. In all my years back to when I was a kid I don't think I have ever had a dog as happy and excited to be with people as Wyni is.
I think she knows she's the 'luckiest' dog in the world.
If this is your first time visiting Average Joe's Portico, every post is written in two parts. You have just read the portion challenging the mind, body, and soul.  In The Portico I seek to tap into your spiritual side, but only IF YOU DARE.  Tap the Red Line Below to hear the Spiritual side of the story.  (For more info – read the 'Do You Dare' Tab)
If You Dare, Click to Enter Into Joe's Portico.
Some people think animals are not on God's scale of concern.   We've been told by some that they have no souls and no soul beings will not go to heaven.  We beg to differ (don't get my wife going on that topic and watch out if you abuse an animal around her.   I found an article about what the Bible says about animals which covers what I believe very well.  If you are interested, here's a comprehensive article for consideration:    10-Biblical-Truths-About-Animals
But where I will venture a bit surrounds my/our growing belief  that miracles are more prevalent than we've been led to believe, even with animals.  God keeps doing amazing things all around us including what I know is a miracle with Wyni.
It was the day after we had our church youth group over for a spring barbecue.   Wyni and another puppy we were watching were the hit of the picnic as they were everywhere hanging with the kids. Everyone was taking turns chasing them and after they were worn out, holding them, who can resist this:
Since our horses roam around the yard free we were worried the puppies would get stepped on by them so I constructed a barrier to keep them on the porch.   I tried several things and settled on a wall divider which I placed at the top of steps.   It was sturdy and heavy enough to stand on its own.  I figured it was perfect to keep them from sneaking off the porch.   As I was walking out to the garage, Deacon, our 130 pound giant schnauzer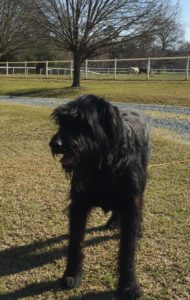 got a little excited about breakfast time and sprinted towards the garage.   His back-end wobbled the divider which stood six-foot tall and weighed about 75 pounds.
Like in a slow motion dream the divider began falling over heading down the steps.   My heart began palpitating as simultaneously Wyni started down the 7 steps.   Her usual whole body was wagging along with the tail and all 10 pounds of her, at the time, started down the steps puppy style.   You know, the two front paws barely heading down one step at a time. The heavier back portion of her body looked like it was 3 times the size of her head and surely she'll be rolling tail over head in a tucked position like a tumbleweed if she lifts her back legs too high.   She was whining with the cute puppy squeal of excitement while going  down the steps after Deacon wondering where he was going and why was he so excited.
It thought about diving for the divider but realized there was nothing I could grab to stop it even if I did dive down the steps trying to catch it.   In a flash the slow motion switched to real-time high-speed and the divider smashed down the steps with a bang, bang, bang, bang until it was jolted by the concrete at the bottom. The divider sat looking like a makeshift slide ready to be jumped on.  The brief thought of laughing at how it all happened vanished as instantly as my smile cracked back to fear.     There was no sound from Wyni.
I thought to myself why God?  Why would you let the devil do that to her? You see I believe our good God does no bad and naturally ask why would he be given permission, I guess that is how it works, to take the life of this innocent one.   I'm not much of an emotional guy, but tears swelled up a bit and a lump was in my throat as I went to pull the divider off of her. Her silence was deafening.   I slowly lifted up the one side of the tri-fold expecting to see a horrificly smashed puppy.   But there laying long ways on the step, and I'm thinking how in the world did her body shift that way; –  she was stiff and still like one of those curled up cat statues.   Wow, no blood!  At least it will be easy to clean up, my race ahead mind thought. But how do I tell everyone what happened? This is going to be impossible….
I reached down to hold her in my arms one last time.   I picked her up gently.   Slowly her eyes opened and she seemed startled to see me.  Likewise I was just as surprised.    I whispered, 'Wyni' .      All of sudden I could feel that familiar body wag.   Her heart was beating 100 beats a second and with excitement and joy.  She gave me a big lick on the cheek, and then the nose and then the cheek and then the nose, then the lips, yuck, then the cheek, then the nose…
Not a scratch on her! The only damage was a puddle of yellow water on the steps where she had laid long ways.  And somehow even none of the drainage from her frightened bladder was on her.
Do you believe God cares for animals and cares for our joy and happiness? Not only do I believe, as farfetched as it may seem, a miracle saved our Wyni that day.  It is up to me, and here I am, to share Wyni's story and let God get the glory.
That moment, when you are thankful for what did not happen.  One we are so grateful for, to say the least.