Thanksgiving is here, and it's that time we talk about all that we are thankful for, but did you ever think about that moment you are thankful for the things that did not happen?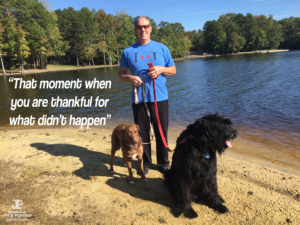 Depending on your own situation we gravitate towards the common 'I am grateful for my family, friends, good health, food on the table, clothing.   We usually go around the table every Thanksgiving in our house and have everyone name one thing they are extra thankful for.   For us this year it is a bit harder to look over the difficult moments as it will be the first Thanksgiving in 30+ years that we will be without my wife's beloved parents, both of whom passed away this year. We will certainly focus on those present as each of us could easily have been with them having survived close calls in all four of our lives.   As we think about it, perhaps we should spend time reciting some of those moments when you are thankful for what did not happen.
We were blessed with an awesome sunny and unseasonably warm day this morning.  I decided to head out for a walk to a nearby park.  My wife snapped this picture of my two walking buddies Wynifred and Deacon.   All of us are animal lovers and who can resist the loyalty and affections our furry friends bring to us.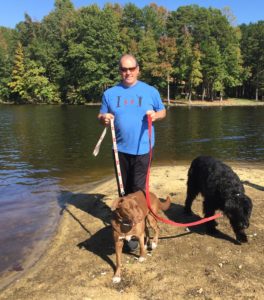 Take a walk in the park, and it brings peace and joy to the max.   It was in a sitting moment I recalled how we nearly lost both of these family members in accidents more than once.  It makes you appreciate them all the more as accidents can easily take a love one away.
Deacon, like Wyni, was a rescue dog.   When my wife brought him home, we had discussions about some of his flaws; the biggest being he was afraid of everything and he hated being by himself.  We noticed his teeth were ground down to a small nub in a few locations in his mouth.  He had been abused and was left in a metal cage for too long.  His teeth were damaged as he had tried to chew his way out of a metal cage.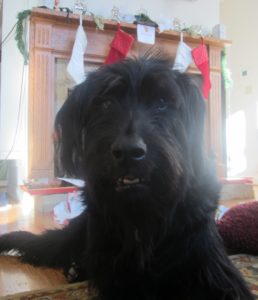 Cindy's heart was way bigger than mine as his gentle demeanor coupled with needing to be loved was all she needed to want to adopt him.   I said let's see how he adjusts to our mini-farm and other animals.
On Day three the first test arrived.
We let Deacon out in the yard to acquaint himself to the three-acre surroundings.   He went straight to the horses to check them out.    It didn't take long for him to learn the hard way that Whiskey our brown horse was not a fan of dogs.   As Deacon greeted him the horse immediately charged at Deacon.  We were thankful that he sprinted away fast enough to not get kicked by the flying back feet of the horse.
He ran into the woods to get away.  End of life situation number one was avoided, but not much later another horse discovery sent him running.
Our property we learned the hard way was not big enough to handle two large horses.  We had to improvise quite a bit to give them a larger grazing area.  I had installed an electric fence in a few spots in the bushes in case the horses made it into the woods.  Painfully Deacon found the electric fence as he ran from the horse.  He yelped with a loud screech that made our hearts and ears shutter.   Apparently, this was not the first time he had felt such pain, and he did the only thing he knew to do, RUN AWAY!   And run he did, straight into the surrounding woods. 
For the next three hours, we hunted around every inch of the many acres of neighboring woods.  I had the leash in may hands and boots on trekking through the heavy trees and brush calling out his name trying to find him.  Cindy hit the car and drove up and down the streets trying to find him and praying that he would not get hit by a car.  My worry is he would be mistaken for a black bear and get shot.  The worries and frustration of looking for a lost dog that didn't even know where he lived increased the anxiety of the search.
We were both at the giving up point as Cindy returned home in tears worried about our lost dog.  As my legs were now worn from trudging through the woods, I said I'd take a drive out to further neighborhoods as he could be miles away by now, or worst yet be roadkill.  That I knew would be devastating for Cindy so I headed out in hopes the worst would not be my finding.  I have to admit, as I knew he was going to be a keeper I had some bad thoughts thinking perhaps that might be the best thing.   As you become tired, worried, and worn out the thoughts go in every direction – at times to dark places.
I drove for the next hour to every angle within a five-mile radius.  No luck in finding this hairy black dog was found.  I was at the giving up point and decided to head back home.   I pulled back into the neighborhood and saw something ahead walking very slowly with its head down.   I inched closer to the animal that was walking ever so slowly.  He was looking extremely depressed.     I stopped the car and rolled down the window and said his name, 'Deacon'.
He looked up at me with the saddest face on a dog I had ever seen.  He looked confused, exhausted, and defeated with despair.  For the past few days when he saw me, he would shake with fear as he had a huge fear of males.    This time he acted like he was ready to surrender and go take more abuse as he dropped into a flat and cowering position in the middle of the road. 
I got out of the car slowly hoping he would not take off and run again.  I held the door open and told him to get in the car.  He looked at me shivering and wincing as if he was about to be hit.  I softly said, 'Deacon, come on buddy get in the car' as I patted the seat.  He looked at the seat, and then at me, and seemed surprised that I wasn't kicking or hitting him.  I patted the seat again saying 'come on boy.'  To my surprise, he picked his 120-pound frame up and tried to climb into the car.  He made it about 3/4's of the way and his back legs got stuck.  I reached up and pushed him the rest of the way into the SUV.  I gave his huge head a hug, and his whole countenance changed.   Deacon had found a real home and family that cared for him.
My heart was melted in the situation as the flash of stupidly wishing he had been hit by a car went through my brain.  I was more than thankful for what did not happen.  Deacon was now a permanent member of the family. 
But honestly, it took a spiritual heart softening the day before to bring my hardened heart to this point.  If you'd like to hear the God softening portion of this mini-story, enter the portico for Part II…
If this is your first time visiting Average Joe's Portico, every post is written in two parts. You have just read the portion challenging the mind, body, and soul.  In The Portico I seek to tap into your spiritual side, but only IF YOU DARE.  Tap the Red Line Below to hear the Spiritual side of the story.  (For more info – read the 'Do You Dare' Tab)
If You Dare, Click to Enter Into Joe's Portico.
The rest of the story –  On day two of having Deacon in our household, my wife and I had a before church conversation.  Already having a house full of animals and vet bills running through my mind I had many repercussions. We had already made the decision to get another dog, and Cindy wanted a big one to replace our oldest dog who was in his last days.  We seem to attract animals with anxiety and separation issues.  It sometimes makes me wonder if we the worriers made them that way or that is the way they were born.  Because of our other dog having separation issues we had to have another dog in the house to give him a partner to keep our furniture from getting eaten.
I made some statements that didn't go over well.   It seemed to me that with the millions of dogs that are in rescue shelters we could find a dog without so many problems.  I ran by the list of Deacon's flaws past my wife.  Rotted teeth, large hairy shedding dog, large bones which will mean hip problems later, extreme anxiety, separation anxiety, afraid of men, not well-trained.  The more I talked, the more I convinced myself we had to find another dog.   As bad conversations go, I convinced my wife that getting this dog was a bad idea.   She finally threw her hands up in the air and said fine, after church we'll take him back to the shelter and find another one.  I felt our bank account recover with a sigh of relief.
The ride to church was rather quiet this morn, I wondered why. (duhhh Joe)
As I sat through the usual three song worship service, I found myself looking around at the people at our semi-mega church that we attended in those days.  I looked at the guy who was a leader that had to step down because of an extra-marital affair.  I saw the person who had the $300k a year job that I know had only donated a measly $1500 for the whole year (I was on the finance committee and knew some tidbits about the contributors and non-contributors).   I could pinpoint many issues about all the people around me, they all had flaws.
I don't remember what songs we were singing, but I remember my heart being convicted thinking about how I was judging people.  The words of the songs were all related to God loving us no matter who we were or what we did.   As usual someone on the stage shared a Bible verse in the accepted version of the Bible that was shared, it stated something along the lines of – Average Joe, you seem to forget where you came from.  What would have happened if God only chose people that had their acts together?  What would happen if he said no, you cannot come into the church because of your flaws?
The Bible verse specifically stated; "For while we were still weak, at the right time Christ died for the ungodly. 7 For one will scarcely die for a righteous person—though perhaps for a good person one would dare even to die— 8 but God shows his love for us in that while we were still sinners, Christ died for us."   Romans 5:6-8 ESV

The songs resumed, and I became extra thankful to God for loving me as I was.  Then it punched me again, I had to thank Him for how I am.  Here I was judging all the people around me.   God in the way He always seems to operate with me opened my eyes on the inside of my heart to reveal things that pop up at times.  In the same moment, He seemed to swoosh in though and sop up the guilt and sop up the tears that started to almost trickle down (remember from past stories, they don't flow easily for me) my cheek.  I felt a warmth of forgiveness come over me and I changed my view of looking at the flaws of those sitting around me.  I felt God's forgiveness pour out to those folks as that is what happens when we ourselves feel forgiven, then we forgive those who also need it.
Then I heard a whisper in my ear and a tap on the shoulder.  I turned around to see who the heck was tapping me on the shoulder during worship service.    The people around me were all doing their own thing.   As I gathered my bearings the whisper came in again  and I  heard it more clearly,  'Joe, do you still want that perfect dog, or do you want to take one that needs the love that only a family like yours can provide him?'
I reached over and put my arm around Cindy.   I could feel the coldness that I hadn't really noticed much after our earlier conversation and on the ride over to the church.  I could sense her saying, 'you jerk, don't touch me!"     My heart melted some more, as I bent over and said,  "You know what, Jesus just told me that we need a Deacon in our house.   We are going to keep our imperfect dog and keep that silly name that he came with".
She looked up at me with a shocked look and said 'What?"   I said, "Yes, you heard me right, Deacon can stay, I'll explain it later,  our job is not to rescue and find perfect ones, it is to rescue and help the flawed."   Her eyes welled up with tears as we hugged.  I felt pretty good at that moment, but at the same time, I knew I didn't deserve that hug back from her.  I am sure thankful it came though.
This morning as I thought of all the difficulties we've had the past couple of years, there were so many things that could have been much worse.  In all of it though I can feel and know that God has worked on my flaws without judgment and continues to refine those areas that only come out when the difficult things come along.  And often additional understanding and thankfulness arrives through the tough times of how much more I have to learn.
This expanded version of Romans 5 6-8 speaks volumes:
"We can't round up enough containers to hold everything God generously pours into our lives through the Holy Spirit!     Christ arrives right on time to make this happen. He didn't, and doesn't, wait for us to get ready. He presented himself for this sacrificial death when we were far too weak and rebellious to do anything to get ourselves ready. And even if we hadn't been so weak, we wouldn't have known what to do anyway. We can understand someone dying for a person worth dying for, and we can understand how someone good and noble could inspire us to selfless sacrifice. But God put his love on the line for us by offering his Son in sacrificial death while we were of no use whatever to him."   Romans 5:6-8 Click for the full MSG text

As I reflect on this Thanksgiving Day, I remember riding back in the car after finding Deacon walking sulking down the road just a few blocks from our home.   God had to soften my heart the day before to even keep this dog, and now we nearly lost him the very next day.  I stopped the car at the end of the driveway and put my arms around his big head and held it for a few minutes.  I talked to him about being careful to not get kicked by the horses.  I talked to him about not running out in the busy roadways.
But most important I talked to him about the fact we were going to be a family that would take care of him regardless of his flaws.  He had nothing to worry about!  He had no reasons to be anxious that we would ever hurt him.  And I told him that I was glad we found him and how thankful I was for what did not happen.
What do you find yourself thankful for the things that did not happen?  We'd all love to hear your comments and stories as well, please click on the comments link and start the conversations.
You can also hear other stories on the topic of being thankful for what did NOT happen, type in 'thankful' in the 'Search' block in the right corner.  I also wrote a story about a the miracle that saved Wyni's life written on Thanksgiving Day 2015. ClickHere to be directed to the story.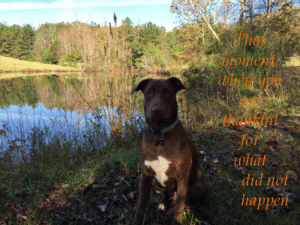 Please share your comments, what struggles with hurt do you have?  How can we help you move from a position of hurt to one of love?